So yeah
For this art contest, you have to draw this boi, Brown Bess from Senjūshi (or alternatively, Senjyushi, Senjuushi, or The Thousand Noble Musketeers).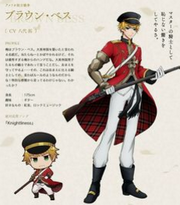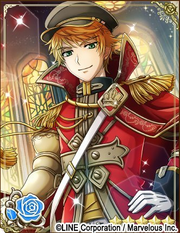 ~~ Personality ~~
"While he is a tsundere, this British gun will do anything to protect the main character, even at the expense of his own life, a characteristic which puts him at odds with Charleville. He also strongly believes in the Knight's Code of Chivalry and imagines himself as one."   - Page for Brown Bess on this wiki
"I am Brown Bess. I'm recognized as the gun that built the British Empire. You may complain that my aim is poor, but it's just a handicap for the great me. Since I'm a knight of the British Empire, I'll protect you… Well, since it's a rule as a knight serving you! It's not coming from any special emotions, got it?" - English translated version of his introduction
He also likes black tea and rock music, and his hobby is playing the guitar.
~~ Appearance ~~
As you can see from the references, he has blond hair, green eyes, and wears a redcoat uniform from The American Revolutionary War. He has alternative uniforms, which you can find offical and fanmade art of him wearing them here. He is also 175 centimeters tall (something around 5' 7 I think).
More references can be found here, any episode of the anime which is already out, or a playthrough of the game.
~~ Prizes ~~
1st place: Rare Eclipse Tail Ornaments; they also get to choose a color of a Rare Glove, Pirate Sword and a Rare Bow and Arrows (one of each).
2nd place: The colors of the items the 1st place winner didn't choose, plus a Fox Hat, Lion's Mane, and a Worn Blanket.
3rd place:
Rare Worn Blanket, Rare Jamaaliday Winter Jacket, Rare Dragon Mask, green and light red Candy Cane Socks, turquiose and pink Jamaaliday Scarves, and aRare Fox Hat (Pink).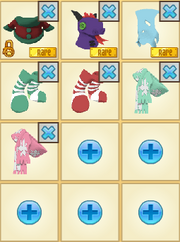 ~~ More Info ~~
The contest ends next month on September 30. 
I'd prefer that he'd be drawn as a human instead of an animal of some sorts, but if you want to, sure. You can also draw him in chibi form
If you have anymore questions, ask me on my wall. 
Thanks for reading and have a nice day!
~~ People Entering ~~