This article is about the features of different dens. For the den modification menu, see Edit Den.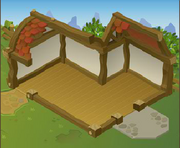 Dens are the homes for the animal avatars in Animal Jam Classic. They can be decorated with many den items and Jammers can visit other players' dens as well. All Jammers have at least one den, but most dens are only available to players with a Membership.
Access
Jammers can access their own den by clicking the Den button that looks like a small hut in the bottom right corner of the screen. This button is also included at the top left of the World Map. The Edit Den button is also in the same place when already at the den.
Jammers can access other players' dens by clicking the "Visit Den" button on their Player Cards. Alternatively, Jammers can travel to Epic Dens by clicking on them in the World Map list. It is also possible to travel to connected dens by stepping into Den Portals, which are placed in dens and linked to a buddy chosen from the player's buddy list.
Purchasing
Land dens can be purchased in the Den Shop in Coral Canyons, while the underwater dens are available for purchase in Deep Blue. Jammers can also purchase a new den by simply clicking the "Switch Den" icon while editing their den and then clicking one of the empty "Make A New Den" slots. Dens cost between 2,000-7,500 Gems or 5-7 Diamonds. All Jammers can have up to 40 dens, but only one of them can be active at a time.
Decorations
There are thousands of different den items in the game that can be placed in dens as decorations. The maximum number of items that can be placed in one den is 300 for members and 100 for non-members. Likewise, the maximum number of items that can be owned is 2000 for members and 400 for non-members. Many den items have special animations that repeat in a loop. Some den items are interactive and perform some series of animations when clicked in just the right spots, but these changes can only be seen by the Jammer that is interacting with them. A very small number of den items will give the player a Holdable Icon to carry around for a short time if they click the item in the right spot. A few den items will actually make noise if they are clicked, but this noise can only be heard by the Jammer that is interacting with the item.
Special Features
Some dens have special features such as slides, bouncy floors, liquid to swim in, and areas that will cause an avatar tint. Land animals can use slides to travel in one direction from one area of the den to another, but flying animals cannot use these. Bouncy floors work like the floors of the Bounce House Party where the Animals will automatically hop very high into the air when standing on them. Liquids cause land animals to appear partially submerged and they cause some pets to tread water. Avatar tints are a color applied to the animals in an area depending on how long they remain there.
Dens
Click Expand to view
Dens
Members-Only?
Price
Seasonal?
Small House
No
2,000
No
Ol' Barn
Yes
5,000
No
Enchanted Hollow
Yes
7,000
No
Fantasy Castle
Yes
7,500
No
Restaurant
Yes
4,000
No
Volcano
Yes
3,000
No
Princess Castle
Yes
6,000
No
Castle
Yes
6,000
No
Tree House
Yes
4,000
No
Mushroom Hut
Yes
5,000
No
Water Park
Yes
4,000
(Summer Only)
Snow Fort
Yes
5,000
(Winter Only)
Autumn Small House
No
2,000
(Autumn Only)
Winter Small House
No
2,000
(Winter Only)
Spring Small House
No
2,000
(Spring Only)
Art Gallery
Yes
7
No
Crystal Palace
Yes
7
No
Sol Arcade
Yes
5
No
Sky Kingdom
Yes
7
No
Beach House
Yes
7
No
Bounce House
Yes
5
No
Pixel Place
Yes
5
No
Cosmo's Den
Yes
5
No
(Discontinued)
Greely's Hideout
Yes
7
No
Sir Gilbert's Palace
Yes
7
No
Peck's Den
Yes
7
No
Liza's Garden
Yes
7
No
Graham's Observatory
Yes
7
No
Cosmo's Tree House
Yes
7
No
Epic Haunted Manor
Yes
5
(Night of the Phantoms Only)
Gingerbread House
Yes
5
(Jamaalidays Only)
(Discontinued)
Winter Palace
Yes
7
(Winter Only)
Friendship Cottage
Yes
7
(Friendship Festival Only)
Jamaaliday House
Yes
5
(Jamaalidays Only)
Spring Cottage
Yes
7
(Spring Only)
Lucky Castle
Yes
5
(Lucky Day Only)
Haunted Mansion
No
6,500
(Night of the Phantoms Only)
Greely's Haunted Hideout
Yes
(N/A)
(Promo Gift)
(Night of the Phantoms Only)
Regal Winter Palace
Yes
(N/A)
(Promo Gift)
(Winter Only)
Igloo Estate
Yes
7
(Winter Only)
Friendship Fortress
Yes
7
(Friendship Festival Only)
Sunken Ship
No
2,500
No
Lost Ruins
Yes
3,500
No
Sandcastle
Yes
7
No
Trivia
When a New Jammer first enters their den, they are automatically given a Rug, Table, Small Window, Chair, Couch, Lamp, and Houseplant. Originally, New Jammers would receive only a Sturdy Table and Blue Rug, but this changed on March 30, 2017.
When a New Jammer enters their den for the first time, Peck greets them and tells them how to decorate a den, as well as giving them gems and den items to start. Originally, Liza would greet them, but this changed around March 30, 2017.
Before August 2011, dens could not be customized with different music and all dens had the same music.
Up until August 2011, all den items had only one color, but new color variants were introduced after this. However, most den items released before this time still have only one color variety.
At a price of 7,500 Gems, the Fantasy Castle is the most expensive den that can be purchased with Gems.
Previously, when a King of the Jungle Membership Card was redeemed, Jammers could choose to receive a free Castle Den or a National Geographic Kids Magazine Subscription.
Many Parties are based on dens and vice versa. For example, the Castle Den is used as the layout for the Trading Party with a few changes such as added snow, fire pits, and a frozen moat in place of the regular grass.
While in "Preview Mode", Jammers cannot access the action buttons, use chat or see other players, but it is possible to type action codes without the chat bar on the bottom of the screen, causing the animal of that player to perform the action.
Peck's Den, Liza's Garden, and the Sky Kingdom are some of the largest dens sold.
The only den available for Jammers during the Beta Testing was larger than most dens currently in the game, with 3 floors but very little space outside the house itself. This den was removed after the Beta Testing was concluded and is now visible as the setting of the Beta Party, with a few minor changes to it.
There are miniature versions of full-size dens available for Pets, such as the Pet Princess Castle, the Pet Fantasy Castle, the Pet Castle, and the Pet Haunted House.
When using the Diamonds to Gems exchange, most dens purchased with Diamonds cost more than dens purchased with Gems, excluding the Fantasy Castle den.
Diamond dens can be obtained outside of the Diamond Shop, but they still must be bought with Diamonds.
Unlike animals and pets, when a den is purchased with Diamonds, the player cannot purchase additional copies of that den for Gems; instead, the player must pay the same price in Diamonds for each copy of the den.
The Small House, Autumn Small House, Winter Small House, Spring Small House and Sunken Ship, dens are the only Non-Member dens.
The only Den to change from a Gems price to a Diamonds price was the Haunted Mansion. Initially, it cost 6,500 Gems, but the price later changed to 5 Diamonds. On October 7, 2021, its price was reverted to the original, and was made available to non-members.
Since the original Small House den cannot be deleted it is impossible for a Jammer to have no den.
Originally, the den view would slowly pan back towards the player's animal automatically after they finished editing, but this feature was changed in 2017 so that the player must first start moving before the view will pan back to their animal.
Both members and non-members can have up to 40 dens.
An update for World Oceans Day on June 7, 2018, allowed dens to be decorated with most ocean and land den items, regardless of their origin.
In the early stages of Beta testing, the top right tag said "Player Den" for all users.
Glitches
There is a glitch where a den's wallpaper will change into the shape of the wallpaper in another den. This often occurs with the Small House den when the player returns to their own den while already visiting another Jammer's den (which is a den other than the Small House den). It can also occur when switching dens and changing their wallpapers repeatedly.
There is a glitch where the AJ Melody music icon will appear on the corners of a den.
There is a glitch where a randomized animal icon will appear in a den; when walked towards, the icon will still appear even if there is no animal currently in a den.
There is a glitch where all the den's items will disappear from the player's inventory, but can still have items in their den. The only way to resolve this glitch is by either logging out or refreshing the page.
There is a glitch where a Jammer cannot enter a den without lagging out if a den has too many pets placed.
When buying a den through the den selection menu, there is a brief possibility of the icon of the newly bought den being missing and the name being replaced with "#6256", before fixing itself.
Gallery
Glitches