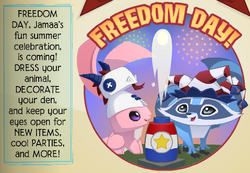 Freedom Day is a holiday event in Jamaa that takes place during the end of June and the beginning of July. It was first introduced in June 2012, but some of the freedom-themed items were available as early as June 2011.
Activities
One of the main activities during the Freedom Day event is the Freedom Party, which features night-time fireworks and freedom-themed shops. The Summer Carnival changes its plushie shop during this time to only sell freedom-themed plushies.
Seasonal Items
There are a variety of "freedom items" that return during this holiday. All of these items feature red, white, and blue colors and some also include stars. Some of these items are included below:
Clothing
Den Items
Trivia
This holiday event is based on the real-life holiday of the Fourth of July (also known as Independence Day), which is celebrated in the United States of America.
Gallery