Not to be confused with the Owl.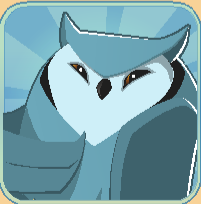 The Great Horned Owl is a members-only flying animal that was first confirmed on December 5, 2018. It was later released the next day, on December 6, 2018, at the Diamond Shop. It left on April 2, 2021. It was released on November 4, 2021, as part of the Topaz Treasures Bundle.
Default Appearance
The Great Horned Owl's default appearance is a tall body covered in dark teal feathers, with lighter teal feathers surrounding the neck. Light gray teal is seen on the front of the face and black stripes along the sides of the face. The head has sharp, pointed ears with dark, slanted eyes and a small diamond-shaped beak.
Actions
| Acts | Description |
| --- | --- |
| | The owl sits with its legs splayed out in front of it. |
| | It waves its wings, holding a pink stick in one wing, directing what appears to be a band. There are two Drums that are played by two chicks. The Violin, Keytar, and Saxophone appear to be playing themselves. Music notes fly around the owl. |
| | The owl sleeps in a pink nest. The same two chicks that hop on the drums while dancing bounce in the nest. |
| | The owl spreads its wings, hops, then folds its wings. |
| | Hops onto a broomstick and flies around in circles. |
Trivia
Prior to its confirmation, artwork of it was shown on the Animal Jam Classic homepage as part of the Jamaalidays background around the start of December 2018.
During its actions, the bottom of the broom, the leaves on the nest, the chicks, and the all the musical instruments but the drums change color depending on the owl's color. However, the nest, the stick of the broom, and the tops of the drums are always pink. There is a glitch where they turn orange.
There is a glitch with the Sparkly Boa that makes the sparkles turn gold no matter what color. It also does not flow in the air like it does on other animals.
There is a glitch where if a Spiked Collar is worn and then a Sparkly Boa is worn, dancing or playing will cause the Sparkly Boa to turn into a Spiked Collar of matching color.
There is a glitch where if a Clover Tie is worn, a portion of it appears cut off around the animal's chest.
The baby chicks that appear during the dance action are nearly identical to those seen on the Bird Nest Hat.
Gallery
Artwork
Video