This page is a

stub

. It is lacking in information and/or is of low quality. You can help Animal Jam Wiki by

expanding it

. At that point, this template should be removed.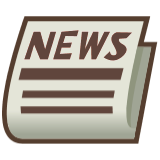 The Jamaa Journal is a series of newspaper articles produced every other Thursday throughout the years. It displays updates, patched glitches, and other Animal Jam news, including new animals, new lands, and exciting deals.
Archives
Archives of previous Jamaa Journal editions
Volume 5
Volume 9
Volume 10
Volume 12
Volume 16
Volume 25
Volume 27
Volume 39
Volume 42
Volume 43
Volume 44
Volume 111
Volume 113
Volume 114
Volume 115
Volume 116
Volume 117
Volume 118
Volume 165
Volume 166
Volume 169
Volume 170
Volume 171
Volume 172
Volume 173
Volume 174
Volume 175
Volume 177
Volume 178
Volume 179
Volume 180
Volume 181
Volume 182
Volume 183
Volume 184
Volume 185
Volume 186
Volume 187
Volume 188
Volume 189
Volume 190
Volume 191
Volume 192
Volume 193
Volume 194
Volume 195
Volume 196
Volume 197
Volume ???
Trivia
It was originally released once a week, but that changed in February 2011 when it started being released once every two weeks instead.
Volume #191 was the only issue to be released on a Wednesday rather than a Thursday.
On April 12, 2012, the style of the journal completely changed. Its white paper-like background was changed to a tan parchment-like style, the footer with the paw-print page number was removed, and a colorful patterned header was added to each page.

The updated style also included buttons on the first page that lead to some of the other pages. The last of these buttons, however, would open a browser window outside the game and connect to The Daily Explorer.

On October 11, 2012, the page numbers returned for each page except the first and they were repositioned to the left of the header.
On May 11, 2017, the style of the journal completely changed again. The tan parchment background was replaced by a wooden panel overlaid with lighter parchment, the volume number was removed from the first page, the patterned header was replaced with a pinned wood sign, the page numbers were removed once again, and a navigation strip listing an icon for each page was added at the bottom.

One feature that was removed with this update was the link to The Daily Explorer.

Typically, the seasonal party is changed every other volume of the journal.