This page is a

stub

. It is lacking in information and/or is of low quality. You can help Animal Jam Classic Wiki by

expanding it

. At that point, this template should be removed.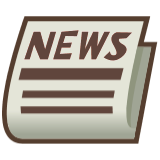 The Jamaa Journal is a series of newspaper articles produced every other Thursday throughout the years. It displays updates, patched glitches, and other Animal Jam Classic news, including new animals, new lands, and exciting deals.
Archives
Archives of previous Jamaa Journal editions
Volume 5
Volume 9
Volume 10
Volume 12
Volume 16
Volume 17
Volume 18
Volume 19
Volume 20
Volume 21
Volume 25
Volume 26
Volume 27
Volume 29
Volume 30
Volume 31
Volume 32
Volume 35
Volume 36
Volume 37
Volume 38
Volume 39
Volume 40
Volume 41
Volume 42
Volume 43
Volume 44
Volume 45
Volume 46
Volume 47
Volume 48
Volume 49
Volume 50
Volume 51
Volume 52
Volume 53
Volume 54
Volume 55
Volume 56
Volume 56½
Volume 57
Volume 58
Volume 59
Volume 60
Volume 61
Volume 62
Volume 63
Volume 64
Volume 65
Volume 66
Volume 67
Volume 68
Volume 69
Volume 70
Volume 70.5
Volume 111
Volume 113
Volume 114
Volume 115
Volume 116
Volume 117
Volume 118
Volume 165
Volume 166
Volume 169
Volume 170
Volume 171
Volume 172
Volume 173
Volume 174
Volume 175
Volume 177
Volume 178
Volume 179
Volume 180
Volume 181
Volume 182
Volume 183
Volume 184
Volume 185
Volume 186
Volume 187
Volume 188
Volume 189
Volume 190
Volume 191
Volume 192
Volume 193
Volume 194