The Jamaaliday Jam is a seasonal, Jamaalidays-themed party available to everyone. This party was first introduced sometime during December 2011 and it returns every year around the time of the Jamaalidays. Starting in 2012, the party is also available for a limited time in the middle of July as part of a mini-event known as Jamaalidays In July. This party can be accessed by any Jammer.
Appearance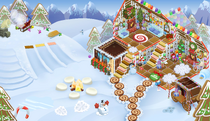 The Jamaaliday Jam takes place at a location which resembles the Gingerbread House Den. The music played at the party is called Winter's Dance. Decorations included the items from each of the twelve days, as well as items found in Jam Mart Furniture. Special features at the party include a frozen campfire surrounded by marshmallow seats, a chocolate pool, and three wafer slides going down a hill.
Attractions
The party has two shops: a den item shop located in a gingerbread wagon at the bottom of the party, and a music shop found just inside the gingerbread house. At the top left of the party just above the slides, there are pet Reindeer that can be purchased. Jammers can also race each other down the three short slides since they are lined up next to one another. Just below the slides is the chocolate and marshmallow campfire that, when clicked, will give Jammers s'mores to carry around. There is also a small candy dish near the entrance of the gingerbread house that will give a candy cane to carry around if clicked.
Trivia
When it first appeared in July, it was thought to be a glitch because it was unannounced. However, it was announced as an official feature for the following year (2013).
The music in this party was originally Jamaaliday Jingle, but it changed to Winter's Dance during the 2014 Jamaalidays.
On July 23, 2017, there was a glitch where the first party's shop could not be opened. It also happened the next day.

A similar glitch happened on July 26, 2018, where none of the items from the first party's shop could be purchased, except the gingerbread house set items.

There is a glitch where the player may get stuck at an endless loading screen if they play one of the mini-Games while in this party. This can only be fixed by reloading the game.
Gallery