The Pets Only Party is a party that revolves around Pets. It is only accessible to Jammers that are traveling with a pet. It was first introduced on August 2, 2012.
Appearance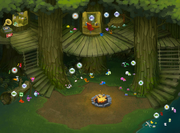 This party takes place in a small clearing in a forest that is very similar to Sarepia Forest. There is a fire pit at the bottom of the clearing, with a small pond off to the right side. Wooden stairs at either side lead up to a walkway that weaves through the giant trees in the background. The music that plays in this party is Pet Parade.
Attractions
The party contains a variety of pet adoption icons for most of the regular, non-Diamond pets. Along the top walkway, there is the Pet Wash, the Pet Stop, and shops that pet-themed den items. The Pet Stop offers exclusive pet accessories that can only be obtained from this party and the Play-As-Your-Pet Party.
Games
Disc Toss - Located on the left side of the party, this game involves making a puppy jump at the right time to catch as many frisbees as possible.
Sssssnake - Located just above the fire pit, the objective of this game is to control a snake so that they can eat as many mice as possible without biting their own tail.
Ducky Dash - Located along the edge of the pond at the bottom left of the party, this game requires the Jammer to help a duck navigate a moving path of lily-pads that is blocked by various obstacles.
Pets
Each pet costs 400 Gems.
Trivia
Previously, this room contained the adoption icon for the Pet Turtle but the icon was removed some point after the pet left stores in February 2017. The adoption icon still remained in the room for some time after the pet left stores.
Gallery