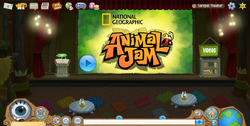 The Sarepia Theater is a location in Sarepia Forest, in which any player can hang out, eat virtual popcorn, and watch educational videos.
Appearance
Pillows with hues of blues, yellows, greens and reds are scattered on the floor with many patterns, including plaid, zigzag, and dotted. Once the player gets more than a tiny bit inside the theater, the lights will dim (this is client-only). The Sarepia Theater's only light source comes from the fireflies in the butterfly nets. On the green wallpaper there is a large movie theater screen framed with wood. The walls have broad, red curtains, and the wooden platform has a shelf of DVD cases with a green chalkboard that reads "VIDEOS" above it. When it is clicked on, a window pops up with a title "CHOOSE A VIDEO". AJHQ adds new videos (in groups of 2-4) every month or so. Some older videos return as new videos after long periods of time. There is also an open book that allows you to read Minibook(s) in the theater also.
Video Library
Jungle Isles
Freaky Creatures-Binturong
WOW! Bugs Glow in the Dark
High and Dry
EWW! Banana Slug Snack
WOW! Lion Gymnastics
HUH? Filtering Feather Stars
Dolphin Dinner
OPPS! Rattled Snake
Nat Geo Wild Kids
Modern Major Kangaroo
Trivia
It is one of five places in Jamaa where players are able to view videos.
In 2018, the Documentaries and Geckos! were replaced due to Animal Jam's partnership with National Geographic ending.
Gallery