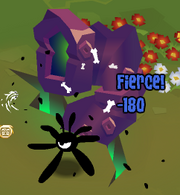 Weapons are a type of clothing accessory that can be worn to boost an animal's damage potential in the Adventures. Some of the weapon accessory items (such as the Rare Glove and Sword) have been in existence since Beta Testing, but they could not be utilized as weapons until July 2013 when the first Adventure obstacles were introduced as part of The Phantom Portal.
Attacking Obstacles
Many Adventures contain a variety of obstacles that the player must destroy to advance the storyline. Most obstacles can be attacked directly by clicking on them, which draws on the animal's damage potential. Alternatively, these obstacles can be attacked from a distance by dropping a Boomseed on them. If an attack does not destroy an obstacle in one hit, a number will appear above the obstacle to indicate the damage that was inflicted. When attacking an obstacle directly, there is a small chance for the damage to be tripled which is indicated by the word "fierce" appearing above the obstacle.
Default Damage
By default, all animals have a damage potential of 10. This is indicated by the damage number that appears when attacking an obstacle directly without any weapon accessories. Wearing weapon accessories can boost this damage potential to obtain a higher total damage value when attacking.
Calculating Damage
Weapon accessories that boost damage by less than 10 can be worn together with any other weapon accessories to combine their damage boost for a greater total damage; this includes all head, neck, and tail weapons as well as the Rare Spiked Wristband, Shark Fin, and Lasso. On the other hand, weapon accessories that boost damage by 10 or more (most leg and body weapons) will not have their damage boost combined when worn together; instead, the weapon that does the most damage will be counted and the others will be ignored. For example, wearing an Alpha Sword and a Legendary Glove together will only deal 40 additional damage (50 total) because the Legendary Glove damage boost (25) is greater than 9, so it cannot be used as bonus damage and it is less than the Alpha Sword's damage boost (40) so only the damage boost from the Alpha Sword is counted. In addition to their inability to combine damage boosts with one another, weapon accessories that boost damage by 10 or more will also include a special animation when attacking.
Known Weapons
The following clothing can be used as weapons:
Trivia
There is a glitch that may cause the game to believe an animal is wearing duplicates of a specific accessory, resulting in a damage potential that is much higher than normal.

A similar glitch allows the ability to wear multiple accessories in each clothing category; thus, more than 5 accessories each dealing less than 10 damage can be worn, and they will all be added to the total damage. This causes a much higher damage potential than normal. For example, wearing 3 Golden Unicorn Horns, Shark Fins, Stegosaurus Tails, "long" Rare Spiked Collars, and "long" Rare Spiked Wristbands collectively results in 90 additional damage.
The higher the damage potential, the more likely there is going to be a "fierce" attack.
Gallery
Weapon Animations
Community content is available under
CC-BY-SA
unless otherwise noted.