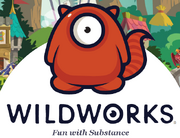 WildWorks, formerly known as Smart Bomb Interactive, is the company that created Animal Jam. Their headquarters is located in Draper, Utah, but they operate on a global scale and have an additional office in Amsterdam, Netherlands. The company was founded by Clark Stacey, Kris Johnson, and Jeff Amis in 2003 and was originally a developer for various publishers, including Namco and Activision. Their first major console title wasn't released until 2006, and their release of Animal Jam did not occur until September 9, 2010.
Partnerships
WildWorks had a brand licensing agreement with the National Geographic Society, which allowed them to incorporate National Geographic's name, logo, and educational content directly into Animal Jam. This agreement was originally established in 2010 when the game was created, but it was extended for an additional 10 years in 2014. The agreement was changed for unknown reasons in 2017, and all usages of National Geographic name and logo were removed from Animal Jam.
Staff
WildWorks employs over 130 staff members, around 90 of which operate out of their Utah headquarters, in capacities that vary from engineers and designers to safety and support experts. Clark Stacey leads this team as the CEO.
Related Games
Following the success of Animal Jam, WildWorks released a somewhat related mobile game Tunnel Town on July 18, 2013. While Tunnel Town was completely separate from the original Animal Jam, the next release by WildWorks of AJ Jump allowed for a direct connection back to Animal Jam accounts when it was released on December 10, 2013. WildWorks continued expanding into the mobile game market with the beta-testing introduction of Play Wild, a mobile version of Animal Jam, on December 16, 2014. They released another app on August 17, 2017, called AJ Academy: Amazing Animals, which is a free mobile app containing e-books about various animals. Yet another app was released on October 4, 2017, called Animal Jam Stickers, which is an iOS exclusive app containing a collection of emoticons to use in Messaging apps. Their most recent app, Dash Tag, represents a departure from the realm of Animal Jam content, although some details in that game appear similar to those of the Animal Jam games.
*Indicates an application that is not a game.
WildWorks had also developed a version of Sky High for the National Geographic Kids website to promote Animal Jam. This version has since been removed form the website.
Other Games
Before Animal Jam, WildWorks developed several games for home and handheld consoles. None of these games were published by WildWorks or related to Animal Jam.
Trivia
The primary WildWorks office was originally located in Salt Lake City, Utah, but they relocated in May 2018.
The WildWorks website has a the WildWorks news segment where they report Animal Jam statistics and various stories related to the company.
In a June 2017 conference, Clark Stacey estimated that WildWorks had nearly 150 audience support and engagement representatives, although many of those are not considered to be official employees.